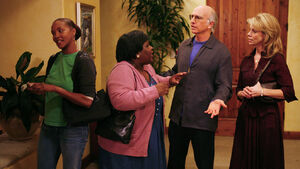 Auntie Rae is the mother of Loretta Black and Leon Black and grandmother to two grandchildren. She first appears in the episode Meet the Blacks in Season 6 and last appears in the episode Vehicular Fellatio in Season 7. She moves to live with Larry David and Cheryl David after Hurricane Edna misplaces her family. She is a religious, kind grandmother who famously tackles Larry when he puts a sheet over his head pretending to be a ghost, and she mistakes him for a member of the KKK.
Ad blocker interference detected!
Wikia is a free-to-use site that makes money from advertising. We have a modified experience for viewers using ad blockers

Wikia is not accessible if you've made further modifications. Remove the custom ad blocker rule(s) and the page will load as expected.