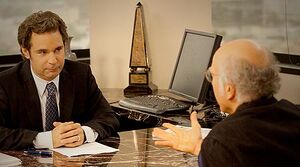 Berg is the lawyer of Larry David shown in the episode The Divorce in Curb Your Enthusiasm Season 8. He is Swedish, but Larry suspects he does things to trick people into thinking he is Jewish. Larry fires him for Hiram Katz, a Jewish lawyer, when he discovers Berg isn't Jewish. Berg rides a motorcycle and he went to a Catholic high school called St. Christopher's.
Ad blocker interference detected!
Wikia is a free-to-use site that makes money from advertising. We have a modified experience for viewers using ad blockers

Wikia is not accessible if you've made further modifications. Remove the custom ad blocker rule(s) and the page will load as expected.