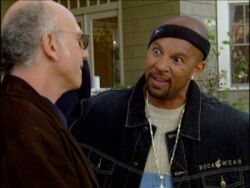 Krazee Eyez Killa is a character featured in the episode Krazee Eyez Killa. He is a rapper engaged to Wanda Sykes and confided in Larry David that he enjoys cheating on Wanda. When Larry accidentally tells Cheryl about this, thinking she already knew, Wanda finds out and Krazee Eyez Killa is furious with Larry.
Random Facts
Edit
Krazee Eyez Killa lives in a mansion with a housekeeper named Delicious.
He likes all types of pussy, especially Asian
Ad blocker interference detected!
Wikia is a free-to-use site that makes money from advertising. We have a modified experience for viewers using ad blockers

Wikia is not accessible if you've made further modifications. Remove the custom ad blocker rule(s) and the page will load as expected.