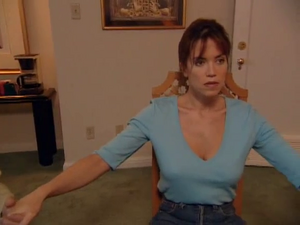 .
Lucy is Larry's ex girlfriend whom he dated before he met Cheryl David. She is a beautiful actress and is played by Melanie Smith, who acted in Seinfeld as Jerry's girlfriend Rachel.
She is featured in the episode The Group, which is the season finale of Season 1 of Curb Your Enthusiasm. In this episode, she asks Larry to go to an incest survivor group with her because she was abused by her stepfather. In the end of the episode, she has a romantic tryst with the married Jeff Greene.

Vote on the Top Ten List of Larry's Women!
Ad blocker interference detected!
Wikia is a free-to-use site that makes money from advertising. We have a modified experience for viewers using ad blockers

Wikia is not accessible if you've made further modifications. Remove the custom ad blocker rule(s) and the page will load as expected.