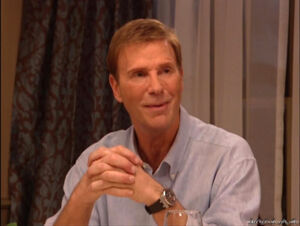 Marty Funkhouser is Larry David's friend. He has a sister named Bam Bam and a daughter named Jodi Funkhouser.
Character History
Edit
Marty Funkhouser has known Larry for a long time and considers himself Larry's best friend, though Larry often denies this fact. Marty is very much a family man and plots revolving around his family are often seen in the show. Ironically, Larry is often involved heavily in Martys family problems. When Marty's father died in season 4, Larry stole a golf club from his coffin believing it to be his. In season 6, when Marty's mother died in a car accident, Larry stole flowers from a memorial site to make up with Cheryl. He also got into an argument with Marty about whether or not he could be considered an orphan since he was an adult. Marty has a mentally unstable sister, named Bam Bam, whom Jeff has sex with and tries to keep secret from Marty. Marty has a daughter, Jodie Funkhouser, who is a lesbian, but eventually realizes she is attracted to men in the episode The Bowtie in Season 5. Larry causes a break-up between Jodie and her male fiance. In season 8 Marty reveals he is not happy in his marriage but is too lazy to get a divorce, though he ultimately does it. He also becomes more dedicated to his religion of Judaism.

Ad blocker interference detected!
Wikia is a free-to-use site that makes money from advertising. We have a modified experience for viewers using ad blockers

Wikia is not accessible if you've made further modifications. Remove the custom ad blocker rule(s) and the page will load as expected.