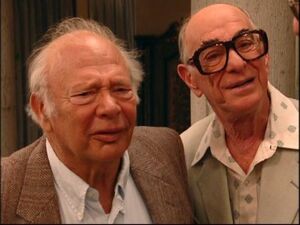 Nat David is Larry's father. He appears in a few episodes, such as The Special Section, The Car Pool Lane, and The Survivor, among others. He has a friend named Solly who is a Holocaust survivor. He is referenced in the episode Palestinian Chicken when Shara calls Larry David "Larry, son of Nat" during sex, and Larry asks her to "keep my father out of it".
Ad blocker interference detected!
Wikia is a free-to-use site that makes money from advertising. We have a modified experience for viewers using ad blockers

Wikia is not accessible if you've made further modifications. Remove the custom ad blocker rule(s) and the page will load as expected.