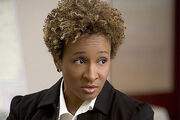 Wanda Yvette Sykes plays herself in Curb Your Enthusiasm. She is a witty, funny and loving friend of Cheryl David who remains friends with both Cheryl and Larry after their divorce. She briefly dates a rapper named Krazee Eyez Killa but breaks up with him when she finds out that he has been cheating on her (due to Larry David telling Cheryl).
She moves to New York at the same time as Larry in Season 8 because she believes Los Angeles is haunted.
Ad blocker interference detected!
Wikia is a free-to-use site that makes money from advertising. We have a modified experience for viewers using ad blockers

Wikia is not accessible if you've made further modifications. Remove the custom ad blocker rule(s) and the page will load as expected.